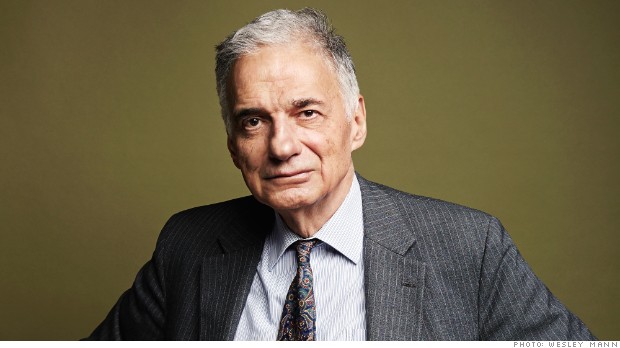 Consumer advocate and four time Independent presidential candidate Ralph Nader appeared yesterday on Fox Business Network calling Republican presidential candidate Donald Trump a "breath of fresh air," explaining that he was "delighted" by Trump's refusal to rule out a third party bid.
"The two party tyranny that blocks voter choices and dominates the political scene on behalf of big business needs to be broken up and Trump is the one to do it," said Nader to host Deirdre Bolton, "it takes a billionaire. Ross Perot got 19 million votes as an independent candidate in 1992.  And Trump has every possibility of doing the same, and by the same token, opening up opportunities for multi-party systems; more voices, more choices."
Nader praised Trump's views on trade and corporations and referred to him as the "nightmare of the corporate Republican establishment."  He said Trump was "punctuating the progressive agenda" by discussing how he used bankruptcy laws to his advantage and campaign donations to gain corporate favors.
However, Nader said he would not vote for Trump because he opposes many of Trump's views.
See video of the interview below: