Email from Wayne Root, 2008 Libertarian Party candidate for Vice-President, and a candidate for LP Chair:
LP founder David Nolan recently said he was "curious how the five announced candidates for LNC Chair would score" on a political quiz that Brian Holtz modeled on the LP platform: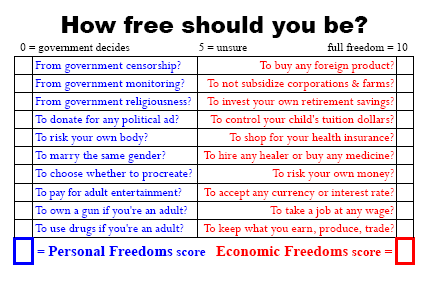 I like Nolan's invitation so much, I'll double down on it. I challenge the other candidates for Chair to see how high they can score using only statements they have already made in public.
It's easy for a Chair candidate to talk the talk right before the convention. It's easy for a Chair candidate to check some boxes and claim to be a consistent and principled libertarian. What's harder is to show that you've walked the walk. To show that you've already been hard at work promoting a complete libertarian package — for multiple years, to millions of Americans.
So here is how I score a 100/100 on the quiz, using only quotes from my book (Conscience of a Libertarian) and my website (RootForAmerica.com). And if anybody worries that a Nolan-chart quiz doesn't address foreign policy, check out my W.A.R. and Peace blog entry from April 2008!
---
How free should we be from government censorship?
Who are these religious right-wingers and leftist feminists to tell me what I can watch or read? Who gave them authority to determine what materials are "allowed" on military bases? What gives them the right to define morality for G.I.'s? Who made them the arbiters of right and wrong? Who gave them the right to override the constitution and ban freedom of speech? Playboy plain and simple represents FREE SPEECH. It is none of anyone's business to tell our fighting boys (and girls) on military bases what to read or watch. It's called freedom. It's called choice. In case you've forgotten, it's at the heart of the American way of life. If a soldier is willing to risk his or her life on behalf of this country; if they are willing to die to protect my freedom and rights; then I think we owe it to them to protect THEIR rights; their freedom; their choice; their right to do and watch and read whatever they want in the privacy of their bedroom (or barracks or tent).
When you allow anyone (or any one group) to determine what is right, what is moral, what is allowed- you've driven down a slippery slope. Today it may be Playboy or online gaming that is deemed immoral and banned. Tomorrow it may be liberal atheists in power, and Christian activists may be outraged to find religious programming like TBN and 700 Club banned. In a society that values freedom of speech and expression, government should not ever be in a position to ban anything.
How free should we be from government monitoring? Warrantless wiretaps are a violation of the constitution and must be ended immediately. PERIOD. It's quite simple: if the government has proof of a possible crime being committed then get a judge to issue a warrant. Many provisions of the Patriot Act should be repealed. The so-called Real ID program is yet another abuse of the rights of privacy of American citizens. Real ID will be a bureaucratic boondoggle run by the same government bureaucrats who lost one laptop and thereby exposed the private information of millions of U.S. veterans to identity thieves. Worse, Real ID will turn America into a Big Brother-like police state. As long as the Homeland Security Administration is in place, our liberties will be in jeopardy.
How free should you be from government religion? With all the violence, drugs, and sex rampant in our schools, we could all do far worse than start each school day with a prayer. But that would be a mistake. You see, Christians (and religious people of all kinds) are making a terrible error when they try to inject God into government. A big government religious enough to give you all you want can also turn against your religion, and take it all away. […]
It's simply too risky to have government assert itself into the realm of religion. And it's not even effective. You can't make someone adopt your religious beliefs at the end of a gun. That was the wisdom of our brilliant Founding Fathers. They did not create a religious state. They created a country based on religious freedom — the freedom to practice any religion (or not) you chose — without government interference. Our Founding Fathers wanted to avoid the creation of a religious state, such as the country (England) they risked their lives to escape from.
How free should you be to donate for any political ad? Some well-meaning people believe they can control the corruption by limiting how much can be spent on campaigns. I oppose that idea. Leaving aside the First Amendment issues of limiting political speech, that's treating the symptom instead of the disease. The fact is that government has grown so large that the stakes are too high for the special interests to ignore. There is gold in the hills of Washington D.C., and the halls of Congress. One way or another, the money flows to influence the outcome of elections. If the money doesn't go directly into the candidates' coffers, it is instead spent directly by "independent committees" or special interest groups aimed right at the voters (through TV, radio, direct mail).
How free should you be to risk your own body? I will end the Nanny State. I will give personal responsibility back to the American people. The decisions on how to live your lives are yours. The decision on what to eat is yours. The decision to smoke or drink or gamble is yours. The decision to wear a helmet on a motorcycle is yours — as long as you accept personal responsibility. The job of government is not to protect you from yourself. Or to prosecute victimless crimes. Big Brother will no longer be open for business under my watch.
How free should you be to marry the same gender? Government should not even be in the business of "licensing marriage." It is none of the government's darn business in the first place. Marriage is between you, your religious institution and God. Government has no right to determine who can or cannot be married. That's the answer. However that is not the case right now. Until it is the case, I'd support a States' Rights resolution. Once again, I'd argue strongly that incremental success on the state level, which can lead to full-fledged success on the national level, is preferable to no success at all.
How free should you be to choose whether to procreate? I believe a majority of younger Americans will choose to become a perfect mix of conservative (on issues such as smaller government, lower taxes, reduced government spending, lower entitlements, elimination of affirmative action) and liberal (on social issues such as abortion, gay rights, stem cell research, assisted suicide, online gaming and Internet freedom). That combination is not found in either the GOP or Democratic Parties. It is only found in the Libertarian Party.
How free should you be to pay for adult entertainment? Living in a free society requires that we take ownership of our own values and not relinquish them to others. If you don't like violence, sex, or foul language on TV, change the channel. If you don't like the views being expressed on talk radio, change the channel. If you don't want to see pornography on your computer, I have more good advice — don't go to any porn sites. You have complete freedom on the Internet to go, or not go, wherever you want. If you want to protect your children from adult sites on the computer, install parental controls. If you don't like magazines like Playboy with photos of naked women, don't buy Playboy. No one is putting a gun to your head in a free country like the United States. You have the freedom to choose. To enforce your version of morality is to take that freedom away through the force and power of government. […]
It's no wonder that Nevada is the small business capital of the country. Mix that with legalized gambling, and legalized prostitution (the only state in USA) and you start to notice the distinct Libertarian streak. People want to move to Nevada to be left alone by government. They want to keep more of the money they've earned (after all, government forgets- it is our money in the first place)…and they want the freedom to do what they want in their private lives without interference from Big Brother.

How free should you be to own a gun if you're an adult? I support the rights of citizens to bear arms. I believe in the Second Amendment- the part of our Bill of Rights that protects the individual right of all Americans to keep and bear arms. PERIOD. The first line of defense against terrorism is the armed American.
How free should you be to use drugs if you're an adult? The war on drugs is a failure- this is one of the biggest wastes of taxpayer money. Let's start with legalization of medical marijuana- this is a states' rights issue. The federal government has no constitutional right to interfere in this issue versus states that have approved the use of medical marijuana by individuals. […] I'd prefer that no government (local, state or federal) limited the personal freedoms of consenting adults, but I am a realist. Incremental success on the state level, which can lead to full-fledged success on the national level, is preferable to no success at all. And even if the freedoms that are achieved at the state level are never implemented on the national level, it gives citizens a chance to live in the states that allow the most personal freedom that fits their lifestyle.
How free should you be to buy any foreign product? Remove the barriers to free trade, thereby increasing the interdependence of other countries on the success of ours. Nineteenth century French economist Frederic Bastiat once wrote: "When goods don't cross borders, soldiers will." Or to put it another way, greed is good. Create wealth for another nation, and that nation will rarely, if ever, risk damaging or losing that wealth by starting a war.
How free should you be to not subsidize corporations & farms? President Bush dramatically increased corporate welfare spending for farmers at a time of record farm profits. Why? Politics is the answer. Senators and Congresspersons from farm states pushed hard to bring home the bacon (excuse the pun) for their constituents. […]
I don not believe government has a right to take my money (in the form of taxes) and redistribute it (in the form of bailouts) to failing companies that just happen to make huge campaign contributions to the very politicians supporting and voting for the bailouts. […]
If it's so easy to see the mistake, why does the Fed continue to pursue a failed strategy? Good question. The answer is simple: political pressure from fat cats (big contributors like banks, Wall Street, real estate firms), special interests (big contributors), and voters- who demand prosperity, easy money, low interest rates, and entitlements from big government. Someone has to pay for all these giveaways, handouts, goodies, corporate welfare, bailouts, stimulus packages, and entitlement ponzi schemes. The Fed makes it all possible by printing up new money to pay for it all. Without the Fed printing presses working overtime, politicians couldn't make promises to pay for every program under the stars. They certainly couldn't afford to pay for all those promises.
How free should you be to invest your own retirement savings? All Americans should have the choice to create personal retirement savings accounts that give us ownership over our own retirement savings. […] The biggest benefit of private retirement accounts isn't even the higher rate of return. It is that we would all gain whole ownership of our private retirement accounts. One way that people can secure their finances as soon as they retire is through a lifetime mortgage. A lifetime mortgage is a type of equity release which lets homeowners aged 55-95 release cash tied up in the value of their home. You can find out more about lifetime mortgages by visiting a site such as Key Advice. It becomes our private property. […]
Would you do away with Social Security, Wayne? I'd certainly like to. At best I'd do away with it because I can find better ways to spend and save my own $15,000 a year. I'd like it to be mine, so I could leave it to my kids and grandkids.
How free should you be to control your child's tuition dollars? We need to give parents and students the freedom to pursue the education of their choice- just as my wife and I do by choosing to home-school our 4 children. I support giving parents control of the education of their own children, instead of government bureaucrats. I support utilization of school choice, vouchers or tax credits on the state and local level to increase education competition; encourage private, parochial and home-schooling; reward superior performance for educators; create magnet schools which give principals autonomy over budgets, hiring and firing; and streamline bureaucracy- giving our education dollars to teachers and kids, NOT bureaucrats and administrators.
How free should you be to shop for your health insurance? Repeal all government laws, rules and mandates that prevent American consumers from buying any health insurance policy they want, anywhere in the country. It is government rules, regulations, laws and mandates that make healthcare expensive in the first place. The answer is to allow the American consumer to buy any policy, in any state, that best fits their family's needs, without government mandating what should be included in that policy. Allow Americans to choose and own their own health insurance- without the employer involved. Allow all individuals to deduct healthcare costs (starting with the first dollar) directly off their income taxes. This allows anyone to change jobs or employers, without worrying about losing their health insurance.
How free should you be to hire any healer or buy any medicine? All Americans should have the freedom and rights to choose the health insurance, doctors, holistic healers, medicine and treatment they deem satisfactory.
How free should you be to risk your own money? We are the descendants of the gamblers. That is why America leads the world in entrepreneurship and small business creation. Americans love to risk, test their skills versus fate, and win their fortune. That could be why Americans love Las Vegas. […] I'd use Nevada as a model for the nation. Our combination of lower taxes, smaller government, and legalized gambling works.
How free should you be to accept any currency or interest rate? The "Free Competition in Currency Act" proposes that the money monopoly of the banksters be ended forever and competing currencies be established to bring financial sanity back to the marketplace. America became the greatest nation in world history because of our economic freedom. Free markets worked. Here Congressman Paul is proposing free markets in money! It's not a radical idea at all, and ending the money monopoly is an idea whose time has come.
How free should you be to accept a job at any wage? It sounds nice to mandate a "living minimum wage". Nice but naive liberal policies have turned the California Dream into a nightmare. […] Government has no right- according to the Constitution- to get involved in bailouts, managing corporations, limiting salaries of executives, or firing CEO's. The answer is to leave these companies alone and let the free market and private investors figure out a way to save them, fix them, improve them, or let them go the way of the Edsel.
How free should you be to keep what you earn, produce, trade? We propose eliminating the income tax and all other sources of federal tax revenues, including payroll taxes (FICA), excise taxes, and import duties, and replacing it with only one tax: a tax on each state in proportion to is population, with each state deciding for itself how to raise its share of the money.