Excerpts from Everyone in L.A. has started a campaign for Waxman's open seat by Jaime Fuller

Marianne Williamson, writer of self-help books: Williamson announced that she was running against Waxman as an independent near the end of last year, and most people laughed at the thought of someone trying to beat Waxman from the left. Her press person called her an "author, lecturer, thought leader" in a recent interview with L.A. Weekly.
She tried to help Dennis Kucinich start the Department of Peace in 2005. She quickly released her own announcement following Waxman's: "What I spoke of two weeks before his announcement, and what I will speak of two weeks after it, will be the same. I wasn't running against Henry Waxman, any more than I'm running against any of the specific candidates who will be joining the race now. I'm running against the system that produced them." She does have roughly 205,000 more Twitter followers than Waxman, but then again Justin Bieber's not about to win any elections soon. She's going to be quite a longshot.

Brent Roske, television producer: Roske had already announced his candidacy as an independent before Waxman revealed this was his last term. Initially, he proposed sharing power with Waxman in office, via a "2 for 1" plan. "Every single person I've talked to in the entertainment industry thinks it's a brilliant idea," he told Roll Call in July.
He has the benefit of being in the entertainment industry while running in Los Angeles. He also knows how to woo the home team. When he debuted his campaign in August, he said, "I've worked in the entertainment industry for 15 years and in that time have seen first hand the damaging dropoff in filming right here in LA. Los Angeles is still called the entertainment capitol of the world, but in order to keep that title we're going to have to fight for it."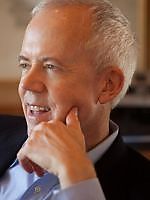 Bill Bloomfield, unsuccessful Waxman usurper: In 2012, Waxman faced his first stiff electoral competition for a long, long while, from Bill Bloomfield, an independent candidate who benefited from California's new open primary system. Waxman got 54 percent, to Bloomfield's 46 percent — a narrow margin considering that Waxman had never before had earned less than 61 percent of the vote. His campaign was self-funded — Bloomfield is a businessman who started his career dabbling in Internet companies until transitioning more into real estate. Bloomfield hasn't announced whether he will take another run at the seat. If he does enter, expect this race to be especially expensive as well as crowded.
Thanks to Brent Roske for the link.