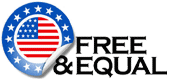 Denver, CO – Three candidates for President of the United States have confirmed their participation in the Free and Equal People's Presidential Debate at Macky Auditorium on the campus of CU Boulder October 25th. Darrell Castle of the Constitution Party, Rocky De La Fuente, of the Independent, Reform and American Delta Party, and Gloria LaRiva of Party for Socialism and Liberation are slated to face-off.
Invitations have been sent to all the candidates on the ballot in enough states with at least 15% of the electoral vote. This is especially relevant this election cycle, when there seems to be a growing opposition to establishment politics.
The news follows the announcement that Kweku Mandela, grandson of the late Nelson Mandela, will provide the keynote address just prior to the debate.
"The American people deserve a better debate than what we saw last night," said Free and Equal's Christina Tobin. "Voters deserve a debate that addresses important issues, engages discussion and works towards solutions."
The debate is the highlight of the United We Stand Festival that will feature a host of speakers and performances by musicians including Kweku Mandela, Flobots, Kymani Marley, Former Attorney General Ramsey Clark, Ed Asner (Emmy Award Winning Actor) will be attending remotely, Spragga Benz, Samuel J, PE 2.0 "The Next Generation of Public Enemy" and many more.
The United We Stand Festival began in Los Angeles and will continue as a tour, bringing together popular, socially conscious musicians, speakers, authors, and other cultural leaders to discuss and celebrate the political process. This momentum will help inspire people to run for office, targeting the Congressional races in 2018. Free and Equal Elections will launch an open source "Election Assistant" Database. This "Election Assistant" Database will be accessible to all and provide information on every candidate.
Free and Equal is the umbrella organization that brings together candidates from across the political spectrum in an effort to unite and push for reforms of a rigged political process.