Houston TX LP activist and voluntaryist Clayton Hunt at Libertarian Gaming:
I think Donald Trump is amazing.

I know what you're thinking, "But he's racist and hateful, ignorant and damn proud of it, can pretend to run a business, but doesn't know anything about economics."
You'd be right, but I think he's amazing because of that, and one other thing…

He's topping the polls of prospective GOP voters, with every incidence of him saying something stupid driving his numbers higher. Donald Trump is showing the sheer backwards nature of the GOP, he's dragging what they say at their rallies, and to limited audiences of like-minded individuals, to the front page of America. They don't even have the sense to pretend that it's not what embodies what conservatism in America has always been. He's shining a spotlight on the GOP and now everyone can see them, warts and all.

The only thing that would make me politically happier is if Bernie Sanders took off in the polls and shined a light on the ugly beast that is modern liberalism. Leaving people to choose whether they want a horrible Republican or a horrible Democrat, leaving the door open for our libertarian moment, as people become disenfranchised with the status quo, it's our job to provide a message that sets us apart from the empty-rhetoric political hacks.
Yours truly at A3PR, with a different opinion (note: NOT an IPR editorial):
No doubt breaking up the duopoly is a truly worthy goal, but if the only way to do it is by shoving a foul megalomaniacal billionaire riding a wave of bigotry, ignorance and hate into the mix, what have we really gained? Ideologically motivated, long term efforts such as LP and GP will be shoved even further to the sideline by the illusion of an anti-establishment option in the service of Trump's limitless yet insecure ego.

[….]

What Trump will accomplish, if he gets in the debates, will be to allow the CoPD cartel to more credibly claim they really are open to non-duopoly candidates if they have enough support.

Alternatively, he may provide just the excuse they need to not make the debate inclusion criteria more reasonable or to make them even less so.

And that is if he doesn't actually take the NSGOP nomination. If he does, he certainly won't be cracking the duopoly unless it's to send country club Republicans off to start a new party that sucks just as much as the existing Big Two, something along the lines envisioned by the Americans Elect bunch. Again, that would be no improvement at all over what we have now.

If he either wins the NSGOP nom or runs a Perot style independent campaign, he could actually win. And that would be really, really bad. With his itchy trigger finger on the nuclear button, the temptation will prove just too great for Trump to spell TRUMP in giant letters made of nuclear bomb craters on the side of Planet Earth to be prominently viewable from outer space after the first time some foreign leader pushes his buttons.
For some other opinions on Trump from (L)ibertarian and alt party sources see:
Roger Stone Has Op-ed Published: How Donald Trump Can Win (the US Presidency)
Ralph Nader Praises Donald Trump as "Breath of Fresh Air"
Wayne Allyn Root Gives Campaign Advice to Donald Trump
Johnson Calls Trump Border Visit "Too Easy"
Spoiler effect and potential Independent campaign causes Trump vs. Paul fracas at Fox News Debate
Mark Wachtler: 'Independents Sanders and Trump rocking the Establishment'
Gary Johnson: It's not about Mexico, Mr. Trump
Gary Johnson: Trump appeals to "racist" voters, "I don't want to have anything to do with it"
LP's Sarwark calls out Trump on eminent domain at FreedomFest
Buchanan-Trump Embrace Recalls 2000 Reform Party Race
Donald Trump To Actually Run For President
Supporters of former Libertarian candidate Ron Paul and one time possible Reform Party candidate Donald Trump clash at CPAC
Trumpism: The Ideology by Jeffrey Tucker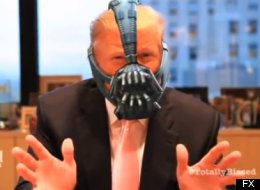 The Idiocracy Candidate: Donald Trump's awful speech at Freedom Fest by Matt Melch at reason.com
Hey Donald Trump: Sanctuary Cities Are Safer Than Immigrant-Hunting Counterparts by Nick Gillespie at reason.com
Trump and the Myth of Immigrant Crime: Numbers about those who come to America show they aren't the source of trouble by Steve Chapman at reason.com
Donald Trump Is A Blowhard Idiot: Especially on Immigrants; Republican presidential hopeful tells it like it isn't on Mexican immigrants and crime by Ronald Bailey at reason.com
Trump Calls 'Truly Weird' Rand Paul a 'Spoiled Brat' Without a Brain; Paul's effort to brand Trump a "fake conservative" earns angry Twitter tirade from "Trump," who has begun putting his own name in scare quotes by Elizabeth Nolan Brown at reason.com
Don't Fall for a Fake Conservative by Rand Paul
Surprising Similarities Between Bernie Sanders and Donald Trump by Ira Stoll at reason.com
That Time When Donald Trump Praised Single Payer Health Care in a GOP Debate by Peter Suderman at reason.com
The Mindlessness of Donald Trump—and What It Reveals About the GOP: The candidate's lack of a traditional political agenda is key to his anti-political appeal. by Peter Suderman at reason.com
Lew Rockwell's Political Theater has been covering Trump quite a bit, mostly positively, in recent weeks.
What Howard Stern for governor can teach us about Donald Trump by Amber Phillips at WaPo (H/T Carla Howell)
Several threads where this is being currently discussed on facebook (some of this may require that you have a FB account, and/or join these FB groups, to be able to read/and or join these discussions):
Our America Initiative Grassroots Task Force
For those of you with FB accounts who aren't in these groups but would like to be let me know and I will add you.
Obviously, there are many other relevant articles and discussions on this I haven't seen or am not remembering at the moment.
Please add other such articles of interest, and your thoughts, in the comments.