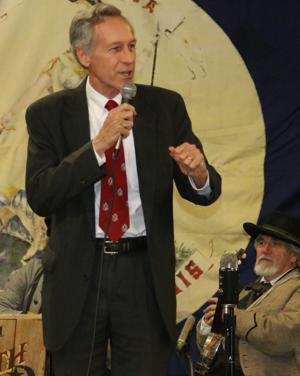 Ballot Access News reports:
Former Congressman Virgil Goode, who was the Constitution Party's presidential nominee in 2012, has become a campaign official in Donald Trump's campaign in Virginia. See this story.
Goode is still presently a member of the Constitution Party National Committee as well.
Trump is currently the candidate leading in the polls for the Republican nomination for President, but continues to float the possibility that he may switch to run as an independent for the same office if he concludes that Republican Party leaders don't treat his campaign fairly. Trump briefly sought the Reform Party Presidential nomination in 2000 and has been registered to vote as a Democrat, Republican and Independent. His top campaign issue is rounding up and deporting an estimated 11 million undocumented immigrants and building a massive wall on the US-Mexico border, which he believes will make America great again. In the most recent Republican Presidential debate, Mr. Trump looked back with fondness to the Eisenhower administration's Operation Wetback, although he did not call it by name.
From the article linked above at GoDanRiver.com:
Former congressman and Constitution party presidential candidate Virgil Goode will head Donald Trump's 5th congressional district leadership team, according to a news release from the Trump presidential campaign Wednesday.

…

Goode served in Congress from 1997 to 2008 as a Democrat, Independent and Republican. In 2008, he lost his seat to Democrat Tom Perriello, who lost to Republican Rep. Robert Hurt in 2010. Hurt currently represents the 5th district.

"Contrary to the claims of the political consultant class, Mr. Trump is the only candidate who can defeat Hillary Clinton. Millions of Republican voters stayed home in 2008 and 2012 because they felt the GOP represented the interests of Wall Street rather than those of working Americans," Goode said in the news release. "Donald Trump is the best candidate to connect with voters who feel disaffected from both parties."

…

The 5th congressional district includes Campbell, Appomattox and Nelson counties and most of Bedford County.

Goode, whose 2012 presidential campaign slogan was "Citizenship Matters," has long called for building a fence on the nation's Southern border, according to the Richmond Times-Dispatch. Trump has championed that idea throughout his campaign.
J Clifford notes at Irregular Times:
Donald Trump's call for massive government spying against American Muslims came just a day after Trump demanded that all Muslims in the United States be compelled to enter into a security database to enable the government to track their movements, and to carry mandatory identification cards showing their religious status. Trump also called for the federal government to begin forcing mosques in America to close. Critics have noted that this system is astonishingly similar to the system used to track and control Jews in Nazi Germany.
Wikipedia notes as part of Goode's Congressional tenure:
Goode's primary policy initiatives were opposition to amnesty for illegal aliens, veterans' healthcare, and the enactment in 2004 of a $9.6 billion buyout for tobacco farmers. Goode has sponsored legislation to permit deployment of the U.S. Armed Forces to the U.S.-Mexico border. He voted in 2002 to authorize the Iraq War and in support of an $87 billion Iraq War supplemental spending bill.

…

Goode voted in 2007 against a resolution opposing the increase in troop numbers in Iraq,[26] saying that he didn't want to "aid and assist the Islamic jihadists who want the green flag of the crescent and star to wave over the Capitol of the United States and over the White House of this country" and that "radical Muslims" wanted to control the world and put "In Muhammad We Trust" on American currency.[27]

…

In 2006, Minnesota's 5th congressional district elected Keith Ellison as the first Muslim to serve in the U.S. House of Representatives. Some criticized Ellison's intended use of the Qur'an once owned by Thomas Jefferson at a private swearing-in ceremony;[33] among them, Goode was vocal in his opposition to Ellison's plan. One of Goode's constituents posted a letter online from the congressman regarding Ellison. The letter reads in part:

When I raise my hand to take the oath on Swearing In Day, I will have the Bible in my other hand. I do not subscribe to using the Koran in any way. The Muslim Representative from Minnesota was elected by the voters of that district and if American citizens don't wake up and adopt the Virgil Goode position on immigration there will likely be many more Muslims elected to office and demanding the use of the Koran.[34][35]

Ellison criticized Goode for this letter, stating that he is not an immigrant and that Goode does not understand Islam.