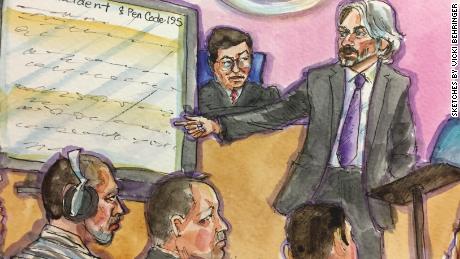 In the high profile murder case of illegal immigrant Garcia Zarate, the man who fired the fatal shot that killed San Francisco woman Kate Steinle three summers ago, the lead defense attorney may be someone with whom IPR readers are familiar.  Public defender Matt Gonzalez, a longtime Green Party activist, secured the "not guilty" verdict for Zarate on the two most serious of three charges Zarate faced.
In 2011, IPR reported on Gonzalez's appointment to the position of chief attorney in the Public Defender's office.  Previously, Gonzalez acted as the running mate for Independent candidate Ralph Nader in the 2008 presidential election.  He ran as the Green Party nominee for Mayor of San Francisco in 2003, finishing a strong second behind current Lieutenant Governor Gavin Newsom.
While speaking with the press following the verdict, Gonzalez addressed the special circumstances of the case, which, during the early stages of the 2016 presidential election, President Donald Trump had used as part of his broader campaign theme against illegal immigration, emphasizing Zarate's five deportations and San Francisco's status as a sanctuary city.
""For those who might criticize this verdict – there are a number of people who have commented on this case in the last couple of years; the Attorney General of the United States and the President and Vice President of the United States," said Gonzalez, "Let me just remind them: they are themselves under investigation by a special prosecutor in Washington D.C. and they may soon avail themselves of the presumption of innocence beyond a reasonable doubt, so I ask that they reflect on that before they comment or disparage the results of this case"
In a later interview, Gonzalez clarified his comments were not meant to disparage President Trump for whom he expressed, "the utmost respect."  Criticism of the verdict and Gonzalez himself, occurred nonetheless.  Wayne Allyn Root, who had served as the Libertarian Party's 2008 Vice presidential nominee and participated in a Free & Equal debate with Gonzalez during the campaign, tweeted:
Here's the Marxist piece of trash who got Kate Steinle's killer off. When I was Vice Presidential nominee in 2008 for Libertarian Party, he was VP nominee for Green Party. My Columbia University classmate. Another commie scumbag who hates America. https://t.co/tXlXpfdP0I

— Wayne Allyn Root (@RealWayneRoot) December 1, 2017
Here's the phone number for San Francisco Public Defender Matt Gonzalez who got Kate Steinle's murderer freed. Tell him what you think!
Then BOYCOTT San Fran. Bring San Fran to it's knees.
PH 415-553-1671.
No justice, No Peace! Make a call for Kate in heaven.

— Wayne Allyn Root (@RealWayneRoot) December 1, 2017
After the verdict, which found Zarate not guilty of murder and assault, and guilty of being a felon in possession of a firearm, the federal government released an arrest warrant for Zarate for violating the terms of his supervised release from a Texas prison in 2015.  Gonzalez will not represent Zarate on the Federal matter.
Further reading: