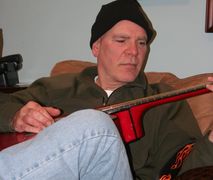 Long time Libertarian activist,  Richard P. Aucoin,  of Worcester,  Massachusetts,  known as Rich to his friend and family,  passed away on 2/17/18 of a heart attack.
Rich was a former Libertarian Party of Massachusetts candidate for Lieutenant Governor in 2002,  and he also ran for the Waltham City Council in 2003 as a Libertarian.
Rich was also part of Carla Howell's ballot initiative committees to End the Massachusetts State Income Tax for the 2002 and 2008 elections,  and he was also on her campaign committee to Reduce the State Sales Tax for the 2010 election,  where he served as a campaign spokesman for these issues.
Rich was also one of the founders of a local activist group called Act Now Worcester,  which urged residents of Worcester to resist any federal laws that violated the Bill of Rights.
Other causes and groups of which Rich focused were PANDA,  or People Against the NDAA of 2012 (the National Defense Authorization Act),  pro-legalizing gay marriage,  Oath Keepers,  Judicial Watch,  gun rights,  anti-war,  9/11 Truth,  and promoting the Free State Project in New Hampshire.
News of Rich's untimely death received condolences from lots of people,  including libertarian luminary Ron Paul,  who said,  "Rich was a true freedom fighter … Getting to know people like Rich has always been a source of encouragement for me."  (Click here and scroll down to see a scan of Ron Paul's handwritten letter of condolence:  https://richaucoin.com/rich%2C-the-activist ).
Friends and family of Rich Aucoin start up The Rich Aucoin Freedom Foundation,  in remembrance of Rich and to continue his work in the battle for liberty.
Here is a link to The Rich Aucoin Freedom Foundation:
Here is Rich Aucoin's obituary which appeared in the Boston Globe:
http://www.legacy.com/obituaries/bostonglobe/obituary.aspx?n=richard-p-aucoin&pid=188239926&fhid=15213
Here is video footage of Rich Aucoin from 2001 which focused on the right to keep and bear arms: