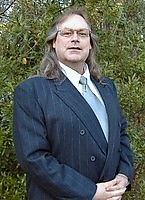 The William Drummond Campaign for Congress has announced that Nicholas Hensley has taken over as campaign manager. The former campaign manager has stepped down do to personal circumstances. Over the past six years, Mr. Hensley has worked directly and indirectly to support over sixty campaigns for various political offices. The Drummond campaign will be Nicholas's first as manager, but he has worked with previous political campaigns in lesser capacities.
Nicholas Hensley became acting manager for the Drummond campaign over two weeks ago. Since that time, the Drummond campaign has seen an increase in website traffic and fundraising. The campaign put together two successful teleconferences with Reform Party supporters. These teleconferences were used to raise money for the Drummond campaign and rally the Reform Party base behind William Drummond.
Nicholas has begun putting together a social networking presence, which was ignored by the last campaign manager. With help from other party members, Mr. Hensley is putting together a new Facebook page, which can be seen at https://www.facebook.com/williamdrummondforcongress
"Nick is a good addition to any team," said Reform Party Chairman David Collison "He has a track record of finding and fixing problems, and I am sure he will be able to lead the Drummond campaign over the coming months".
Nicholas plans include building an aggressive ground game with the goal of scheduling five candidate appearances a week at different events, and organizing volunteers to go door to door to spread the word about the campaign. He also plans to build a sizable internet presence to support the campaign, and raise money to buy media advertising.
"You place well in a campaign without meeting with people, shaking hands and talking about local issues," Mr. Hensley explained "and that's what we're going to do".
The campaign is currently seeking donations and volunteers.
It is possible to learn more about the William Drummond campaign by visiting drummondforcongress.com and follow him on Facebook at https://www.facebook.com/williamdrummondforcongress